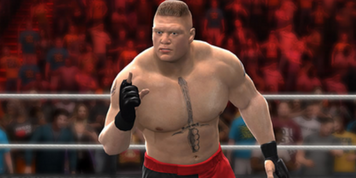 Brock Lesnar is a professional wrestler currently a PART of the Bobson Wiki universe, with two incarnations of himself in the WWE 2K14 league. The original Brock Lesnar appears on the RAW brand, currenlty teaming with Chris Jericho as part of the Pauls Of Jericho. Brock Lesnar (Retro) appears on the RAW brand as well, after spending the majority of season one as a main-eventer on SmackDown!
History (WWE 2K14)
Edit
History (WWE 2K15)
Edit
Brock Lesnar won the WWE 2K14 Slammy award for LOL Moment Of The Year, when Paul Heyman turned on him with the clothesline heard around the world. The other nominations included Virgil winning the World Heavyweight Championship, Bobson's legendary Mark/Ryback rant and John Cena's random heel turn.
Championships and Accomplishment
Edit
WWE 2K15
WCW Tag Team Championship (1 Time w/Ryback)
Ad blocker interference detected!
Wikia is a free-to-use site that makes money from advertising. We have a modified experience for viewers using ad blockers

Wikia is not accessible if you've made further modifications. Remove the custom ad blocker rule(s) and the page will load as expected.