Kevin Owens is a professional wrestler currently a member of the Bobson Wiki universe in the WWE 2K universe as part of the SmackDown! brand.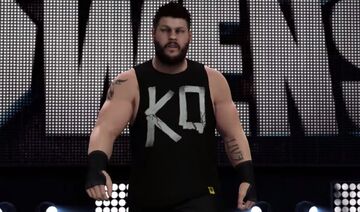 History (WWE 2K)
Edit
WWE 2K16: SmackDown!
Edit
Kevin doesn't appear in the universe for the 2K14 and 2K15 seasons, as he is not playable in either game. His first official appearance comes as part of the WWE 2K16 universe, being one of more than a hundred wrestlers drafted to either RAW or SmackDown! Kevin is drafted to SmackDown!, being one of the more eagerly anticipated wrestlers in the universe. His popularity caused for his debut to come earlier than expected, teaming with the Undertaker to take on Kane and Brock Lesnar on the first episode of SmackDown!
While Kevin never appears in the 2K14 or 2K15 games as an official character, Bobson initially had plans for Owens to appear at the 2K15 Royal Rumble as a surprise entrant. Him and Finn Balor would be introduced through CAWs created on the online community creations, although those plans were forced to change after the data was corrupted. They were replaced by Default and Tizer.