Mr Kennedy is a professional wrestler currently a member of the Bobson Wiki universe in the SmackDown! Vs RAW 2007 league. He was the first winner of the Andre The Giant Memorial Battle Royal at the first Wrestlemania.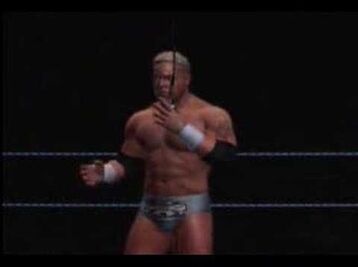 History (SmackDown! Vs RAW 2007)
Edit
Breaking Out
Edit
Mr Kennedy first appeared on the first ever SmackDown! in a tournament to determine the number one contender for the World Championship. He defeated Paul Burchill in the first round but on RAW, lost the semi final to the eventual winner Chavo Guerrero. He didn't appear again until the second SmackDown! after Backlash, when he won a six man battle royal defeating five other big names (Mark Henry, Randy Orton, The Rock, Steve Austin and Bret Hart) to make a huge impact. However, he got injured during the battle royal and ended up getting time off.
Losing Streak
Edit
On the SmackDown! after Vengeance, Mr Kennedy returned to take part in a fatal four way match to determine the number one contender for the Intercontinental Championship. However, he lost out to Mr Perfect. He'd reappear month later on the SmackDown! after Unforgiven to tag with The Rock and lose to Batista and Randy Orton. On the following edition of SmackDown!, Mr Kennedy appeared to lose a fatal four way match also involving Triple H, Gregory Helms and The Great Khali. He never appeared again until the SmackDown! before Wrestlemania, where he lost a six man ladder match for a spot in the Hardcore Championship match at the show.
Andre The Giant Memorial Battle Royal Winner
Edit
Kennedy appeared in the Andre The Giant Memorial Battle Royal at Wrestlemania and shockingly won the entire thing, eliminating Jerry Lawler last. This relit the fire in Kennedy after not winning a match in months. He was entered into the King Of The Ring, but lost in the first round to Rob Van Dam. Kennedy attacked him in response.
Kennedy is also dubbed "Mr Friday Night" as he shows up on SmackDown! a lot.
Ad blocker interference detected!
Wikia is a free-to-use site that makes money from advertising. We have a modified experience for viewers using ad blockers

Wikia is not accessible if you've made further modifications. Remove the custom ad blocker rule(s) and the page will load as expected.