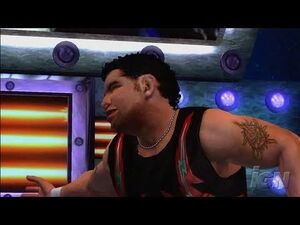 "Stone Cold" Super Crazy is a professional wrestler currently a member of the Bobson Wiki universe in the SmackDown! Vs RAW 2007 league. He is currently the reigning Hardcore Champion, in his first title reign. He was once in a tag team with Eddie Guerrero called "Los Mexicools", a team that competed for the Tag Team Titles at Wrestlemania I. Crazy currently serves as the Stunt Double for Stone Cold Steve Austin.
History (SmackDown! Vs RAW 2007)
Edit
Starting Out and Hiatus
Edit
Super Crazy first appeared in a elimination fatal four way match on the SmackDown! before Backlash with the winner getting a chance to become the first ever Intercontinental Champion. However, he was eliminated first. He would then get a chance to compete for the World Title by taking part in a Beat The Clock challenge. However, he was defeated in 7 minutes and 54 seconds by Viscera.
Return From Hiatus
Edit
Following a 5 month hiatus, Super Crazy returned to defeat Johnny Nitro in a victory that pleased all of the announce table as Nitro was not well-liked. At Armageddon, he would take part in a number one contendership match with Mr Perfect for the tag team titles. Sadly, they lost out to future tag team champions Maggle Heat.
Los Mexicools
Edit
Following the Royal Rumble, Super Crazy would form a tag team with the returning Eddie Guerrero called Los Mexicools and the duo didn't get off to the greatest of starts. They lost to Lance Cade and Trevor Murdoch in a highly-praised tag team match on the second RAW after the Royal Rumble. The duo took part in a gauntlet for a Tag Team title shot on RAW. The underdogs overcame the odds after drawing number 3. They defeated MHM before defeating Bam Bam Bigelow and Bret Har via disqualification in a huge upset. The tag team title match on RAW ended in a no contest as the feed was cut. They defeated Carlito and William Regal shortly afterwards, the team that were supposed to compete for the tag team titles at Wrestlemania. It was determined afterwards that Maggle Heat would defend the belts against both Carlito and Regal, and Los Mexicools in a triple threat hardcore match. Sadly, Los Mexicools failed to win the titles.
Stone Cold Super Crazy
On an episode of RAW before Judgement Day, Super Crazy won his first championship in a fatal four way ladder match involving Chris Masters, Mr Perfect and holder Stone Cold Steve Austin. After Crazy and Austin teamed up to defeat Nice Apple on SmackDown!, Crazy pledged his aligiance to Austin offering to be his Stunt Double. However, that loyality will be tested as the two will be in another fatal four way ladder match for the Hardcore Title at Judgement Day (Year 2).
Section heading
Edit
Write the second section of your page here.